FUTURE PROJECT SEASON EXTENSION FOR A BETTER YEAR-ROUND OCCUPANCY RATE
THE TOURISM LIGHTHOUSE PROJECT ON THE SOUTHERN SHORE OF THE MÜRITZ RIVER
The Hafendorf Müritz is a sought-after destination for holidaymakers on land and on water. In the 2021 season, we have built a motorhome site with 47 spaces to give the growing number of motorhomes the opportunity to experience and enjoy the harbour village. Who would have thought that the former flight test site Rechlin and the ex-VEB shipyard would become a toruistic lighthouse project on the southern shore of the Müritz? We would! And we still have ideas about how to continue! We are working on many projects at the same time. In order to make the destination more attractive, especially in the low season and in the winter months, the Kuhnle Group is planning various investments:
Container Hotel/Herberge, Welcome-Center, Eventhalle, Indoor-Funpark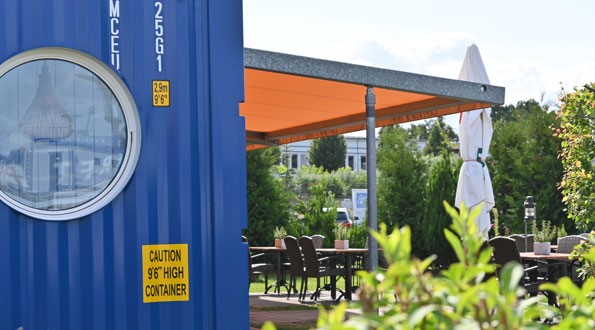 Inspired by shipping containers is the extension in front of the Captain's Inn, which we built in the 2020 season. We recycled three used standard containers to create space for more covered tables in a cosy ambience. The Kuhnle shipyard has gained valuable experience in converting the containers here, which will be important for future projects. Because in a similar way, an entire ho(s)tel will be added to two existing halls. Hotel/hostel, because there will be rooms that have the character of a hotel, but also inexpensive multi-bed accommodation. In this way, the container hotel will become a meeting place for travellers of all target groups, because people have long since chosen their accommodation according to what suits them. High earners in a hotel, students in a hostel? That was yesterday. The Ho(s)tel will have 41 rooms with over 100 beds and will be built entirely from used shipping containers - with a chic rooftop bar on the roof of the Ho(s)tel. Perfect for dangling your legs and relaxing with a cocktail in your hand when the weather is nice.
The Welcome Centre forms the entrance area of the entire complex and will be the central contact point for guests at the resort. The reception for boat charter guests and also for guests of the hotel and holiday flats will be integrated into the Welcome Centre. The event and fun area will also offer a wide range of activities, including an indoor fun park, Escape Rooms and Laser Tag. A spa area with swimming pool, sauna, fitness and bouldering is also planned. This is of course brilliant if a family holiday is on the cards and the whole family wants to experience as much as possible. But those who are not on holiday have also been thought of, so a co-working space makes it possible to work outside the big cities. And here with us you really have your peace and quiet.
The gastronomic offer ranges from a self-service restaurant to a restaurant with on-site service. In addition, there is a winter garden and an outdoor restaurant (beer garden), ideal for all passionate beer drinkers. Attached to the gastronomy is a large bar with an insight into the craft beer brewery. It's interesting to see how hops and malt are turned into golden beer. With flexible walls, space is created indoors for events with up to 500 guests. If the situation then allows again, event rooms of different sizes are available. Whether it's birthdays, weddings or company meetings, we have just the right thing for you.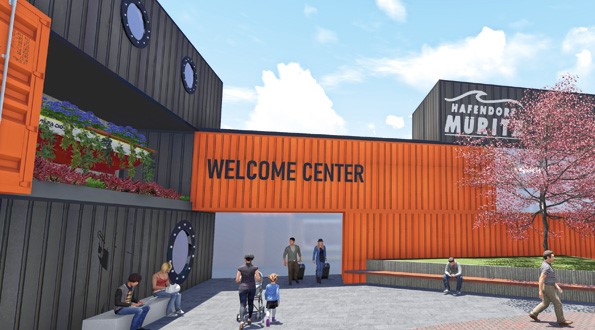 In September 2019, we presented our project "Future" to the municipality of Rechlin. The project must be approved by the municipality of Rechlin (planning authority). Concrete steps for early approval have not yet been taken. The Müritz harbour village lacks indoor offers and offers for extending the season.
Holiday flats and parking garage
Two shipyard halls are to make room for 100 cosy holiday flats between Claassee and Müritz National Park. Like the flats and houses that have been built so far in the Müritz harbour village, the holiday flats will be sold to private investors. A multi-storey car park with 200 parking spaces will serve as a visual demarcation with noise protection function, which will tidy up and relieve the parking situation in the harbour village. The multi-storey car park (ground floor) is also used in winter and serves as boat storage.
CraftBeer Brewery

Watching the beer being made on the counter? We make it possible!

more information

Indoor-offers

With indoor fun park, fitness centre, swimming pool and more.

more information

Bike centre and angler

Some sports require more space than others - so we will provide extra storage.

more information
Food and Beverage/ Gastronomy

With conservatory and outdoor dining, as well as rooftop bar and craft beer brewery.

more information

Residences - Serviced Apartments

Construction of serviced flats for sale to private investors.

more information

Construction phases and financing

In which order the construction should take place and which hurdles have to be overcome.

more information
Container Hotel/Hostel

You can find out where it will be built and how many rooms there will be here.

more information

Welcome Center

Our future central contact point for guests at the resort.

more information

Parking garage

Parking garage with four levels, each with 50 parking spaces.

more information
further information

Background on the construction method, environmental protection and advantages.

more information